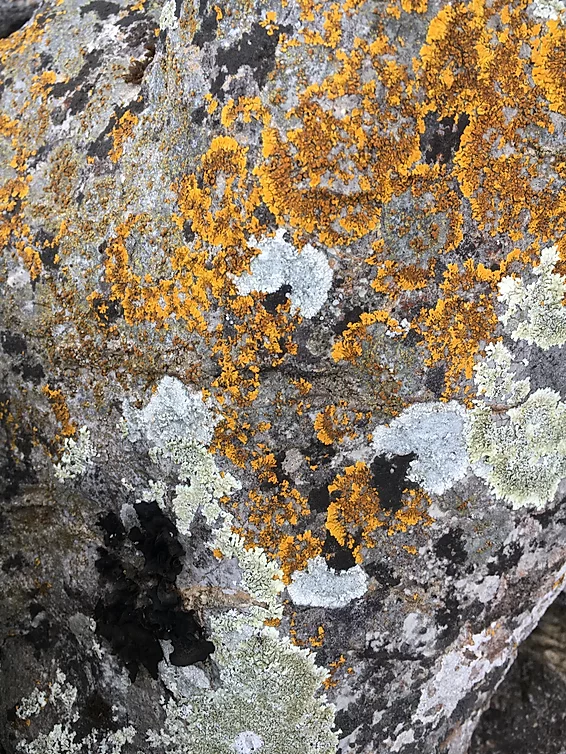 With a background in Ecology, Zuri is co-founder of A1 publishers which publishes themes of geopolitics, landscapes and borders. In her own work she explores how we interact with natural and built environments and what informs our actions. Using this point of enquiry Zuri collaborated on a book, Feral Cities, which traces botanical networks in cities. We asked Zuri some questions to find out more about her work and its significance in our changing climate.
Q: Can you tell us a bit about the sociocultural context(s) of plants; how food and agriculture are woven into cultural identities and their importance for your research?
A: I grew up surrounded by plants, in kitchens and gardens, by the sea often, outdoors mostly whilst in school. And in the south of India, where I spent most of my life, agriculture - even in urban areas - is not hidden away, farms and fields as well as water politics and drought find their way into our lives.

So in my research, which began as a very fluid study into accessibility in the urban environment, I couldn't ignore the natural layer.
Q: What is some of the work you have done at the intersection of political ecosystems and ethnobotany?
A: I focus a lot on food, medicinal plants and access to nature. I began with Counterspaces in Istanbul where I researched how the materiality of the city's built landscape is laden with historical and current geopolitical meanings. It was fascinating for me how the history of this city is constantly re-formed to suit political and commercial intentions and how the environment is moulded to fit this, and I love the diverse mediterranean botany that grows out of every habitable space on the facades, the roads, abandoned plots.

And I continued this in Bombay with Feral Cities - a publication that I did in collaboration with Maela Ohana. Drawing on my research in India, Turkey, Europe, and Dubai, I consider restorative practices to subvert the neoliberal, resource and extraction-based definitions and limitations that shape how we perceive our lived—and living—environments. Drawing on parallels between the semantics of "native / invasive" classifications in botany, and the binary prejudices used to confront political and social "Others", I propose links between "travelling ecologies," the merging of floral, geological and botanical bodies as a consequence of globalised agriculture, and the power structures that underlie our 'social landscaping' in the context of political displacement, refugee movements and social rupture.

I also worked on Distant Nature, in Jericho, Palestine, where I studied nature, spatiality, history and politics through the lens of human ecology. Focusing on movements of resilience and autonomy within occupied territories, I looked at the intentional separation of people from their environment as part of a political hegemony and control. This was part of an exhibition that brought together ethnobotanical narratives, local herbal remedies and endemic plants in an interactive installation, as well as a publication documenting the ways in which people reclaim ownership over their lands and bodies.
Q: How has our interaction with nature changed and how would you describe it today?
A: I think that's a very complicated question because it depends on whose perspective we are talking about.

I think that in the Global North, it is really complicated and messy because on the one hand, there's an incredibly large climate movement and green political system, but this is a reaction to a very wasteful and indulgent attitude that is not honest about its actions and impact on biodiversity and ecology.

That being said, I am deeply hurt by the current Indian government which is making absurd and devastating choices about our coastlines and forest-zones today, from massive coastal reclamation projects, to mining within protected zones.
Q: 'I do not want more 'cute cafes' or 'interesting, secret bookshops' or 'concept stores' in the place I live.' - How can we navigate away from consumerism? Or is it imbedded in our nature?
A: I don't think a consumer narrative is embedded in anyone's nature. I think these attitudes come out of what we've been taught, what we see around us, and the resources we have access too.

I think to begin consuming with abandon is a privileged position that fails to see, or is okay with, the immense waste of energy, abuse of labour and lack of use that such actions entail.
Q: In what ways have you sought to change our relationship with the natural world from an exploitative relationship to a symbiotic one and what research led you to do this?
A: Currently, working as a cuisinier, I try to work as closely as I can within sustainable food-systems. When I work on gardening / landscaping projects, I always begin by understanding the space on a deeper level, to see the ways in which the work I do is not invasive and detrimental to the qualities it already holds.
Q: How do you think our exploitive attitude towards nature developed? What was this process?
A: Our attitude is part of a system of colonialism and inequality that is very complex and deeply embedded within our politics today.
Q: How hopeful are you that we can change our relationship with the environment?
A: I am hopeful but I'm also practical - I think if we are honest with ourselves, we can make a positive impact through urgent systemic changes on the global and local scale.
Q: How does the current political climate inform your work?
A: It makes me want to learn more from the many communities that work closely with the land and sea, to understand their observations and narrative of climate change within a very twisted and unequal political environment.
Q: Can you tell us about the project you did with displaced communities and gardening in Greece? What was the purpose and what did you achieve?
A: With A-1 Publishers, the independent publishing house I co-founded, we travelled to Lesvos from France aboard Foxy, our sailboat to run our project, Growing in Greece. You can read more about it here: https://a-1publishers.com/Growing-In-Greece

After working in places with complex and intricate links between nature, politics and identity - for example, India, Palestine and Turkey - has shown us the potential of community-gardens as spaces where we can engage with nature and the landscape around us in an interactive and enriching way.

We set up our first garden at One Happy Family, a community centre thirty minutes on foot from Moria, an overcrowded former military base turned camp with 6000 residents.

The intention of our project was to use gardening as a tool for people to build a relationship with the land they live on regardless of the duration they might be there for.
Q: Do you have other projects lined up?
A: We are currently working on a series of publications that bring together the narratives from Growing in Greece into a final tangible form.