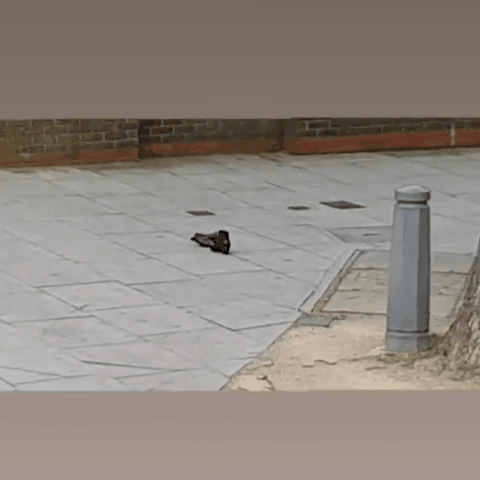 Plot Twist is a reading group organised by Georgie and Jo in Amsterdam where they have been working for the past few years. We met up to discuss the thoughts behind the group and what they have gained from creating this shared learning experience.
Q: Can you tell us about yourselves and why you decided to start this project?
G: We have been friends for quite a while, both read a lot, and found that we wanted to open up the conversation to more people. Quite a lot of our friends read and are engaged in interesting topics, but social settings are not often the right context to take a deeper critical look at things, so a reading group seemed like the logical step to take. At the time, we didn't know of many active reading groups in Amsterdam so we decided to set up our own.
Q: Do you consider yourselves a collective?
J: We have tried to decentralise the reading group as much as possible but this is our first year of running it so we've been learning as we go. The collective aspect really comes into play in how the sessions are run – each month a different member(s) selects the reading list and leads the session. In this way we resist hierarchical systems when it comes to giving and receiving knowledge. People do see us as the ones "in charge" but that's not true at all, we just do the admin and say yes or no now and again. Next year we would like to redistribute some of the administrative responsibilities with other members.
Q: Can you tell us about the reading list topics and why you chose what you did?
G: We chose the first two topics – motherhood and technology – to get the group started. The premise of plot twist is collective learning and sharing, so we all voted on the themes for the remaining six sessions. These were sickness & disability, romantic love, witches, anger, surrealism and landscapes. It's quite common for reading groups to focus on one text, but we didn't want to approach ours like that. Instead we wanted to draw connections between texts and other resources to provide people with a more dynamic reading list and, hopefully, make for more fruitful, comparative conversations. Thanks to the people leading the sessions each month they're always really well put together.
Q: Was there a topic you particularly enjoyed/a session that was most interesting?
J: They've all been very different. Motherhood was perhaps a good one to start with. A lot of people didn't know each other but the session got quite intimate early on due to the nature of the topic. It's a very difficult topic to approach as family and motherhood holds different significance to everyone – socially, politically, let alone circumstantially, but overall I think a lot was gained from the conversation.

G: Everyone also seemed to enjoy the session on witches. Juliette, who led the group, invited two friends, one of whom is a witch and has been practising witchcraft since she was a child. We did a new moon ritual and a welcoming ritual. The other, who cooked for us, describes herself as a kitchen witch. It was really nice to have such diverse touch points, texts and active participation.
Q: Why did you choose to include only women?
J: One of the only things that we were certain about when we started plot twist was that we wanted to only read texts by women and non-binary people. This stemmed from Sara Ahmed's 'Citation Practices', which posits that by citing texts by women, we reproduce a world that includes women. Ruling out men authors has helped us discover many more voices that we may not have come across before.
Q: What is important about this shared learning experience that you have created?
G: The collective aspect has been very important for pooling together our resources. Every member brings with them their own set of interests and methods for thinking through subjects. plot twist provides an opportunity to share and exchange these with others. It's about sharing knowledge, rather than receiving it from a top down, hierarchical system like in academia, which can really stunt growth. The dialogue aspect is also very important, exchanging histories, stories and different subjectivities. It's community building, which places emphasis on learning together, rather than just absorbing dominant narratives and traditional methodologies for learning.
Q: How can this way of learning change the dynamics of inclusion and exclusion? Are the women from diverse backgrounds?
We don't measure ourselves against academia, we have a different measure of success. In that sense we are anti-institutional. Creating our own "syllabus" as we go, which gives room for a variety of voices, particularly seeking out voices from the margins. We're also trying to expand the notion of literary – a text can consist of a blogpost, podcast or sound piece. It might not be a peer reviewed journal, but it is still a valuable resource for learning.

The group is very international, with people from many different countries and many different backgrounds. But the majority group is white and western, which is probably the result of various factors. We are making efforts to ensure the space is more visible and accessible to people of a wider.
Q: Do you think knowledge is a commodity?
G: I think everything is a commodity under capitalism. With plot twist, we're trying to provide an alternative space that resists commodification of resources. We don't ask for anything in exchange for the things we share and the work we do (although if members' finances allow it, we warmly accept drink and snack donations!). Within the context of academia, knowledge certainly holds great power when you think of the privilege and access these spaces grant you… you won't receive any of that from being part of plot twist, but it will give you time and space to expand your thinking across a very broad array of subjects without the risk of being exploited or stripped of your money.
Q: Why is it necessary to offer alternative ways of learning?
J: Alternative learning systems are happening all around us outside (and inside) of institutions, in conversations, in pubs, in homes, in community spaces. We are just opening it up to be something regular and purposeful.

G: I've gained a lot from the sessions, more so than many of my lectures at university. Academia is a disillusioning and exclusive sphere. You lose a lot of freedom once you've paid/submitted to the extortionate fees to enter these institutions. You're not likely to get a citation policy that favours texts by womxn in these spaces, or the levels of participation we've encountered in plot twist.
Q: How were your reading groups structured or unstructured?
G: Every month a different person facilitates the session, so it kind of changes depending on the person. There's a loose format which consists of an introduction to the topic and the readings. Sometimes we split into smaller groups to do close readings and make comparative analyses. But we may also stay as one group or watch something together. We have prompts, projected on the wall to help people if needed, and sometimes we do collective writing exercises. It always changes.
Q: What do you think is the relationship between becoming and learning?
J: I think of becoming as a process, a reorientation or reproducing of things. Learning is an essential form of becoming because we build on what we learn. It's a never ending process.
Q: What has been the outcome?
G: Everyone involved seems to have had a positive experience, but everyone has taken different things from it. In general, we've created a community and many friendships and bonds have been made. People have gained access to many resources they wouldn't have had access to otherwise.
Q: Do you have any ideas for the future?
G: It would be nice to have a more public facing side so that we are more accessible to others. It's definitely our intention to open it up to more people and have more collaborations. This would involve breaking out and setting up in different spaces across the city so that we don't just make a name for ourselves within a single community. The group is also very creative and includes writers, artists and poets, so it would be good to think about how we can produce things as a collective.